Using Analytics to Help Make Data-Driven Marketing Decisions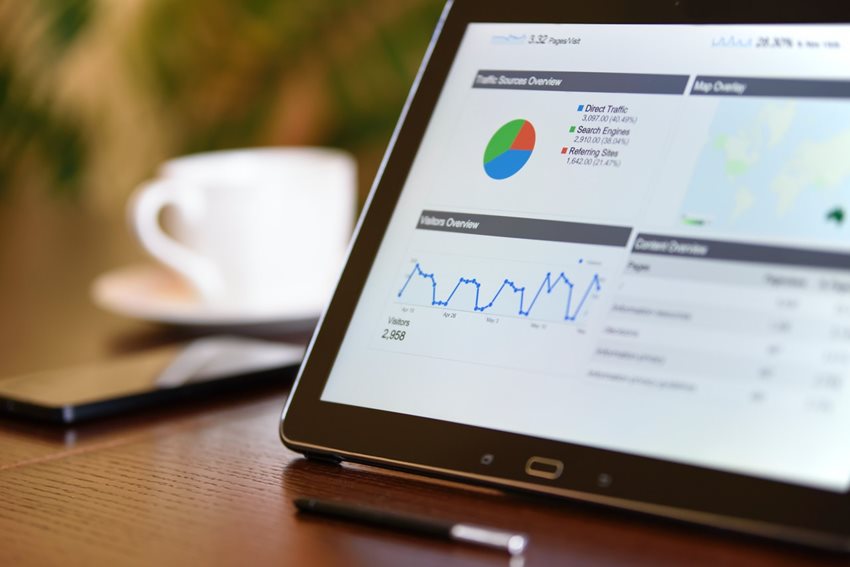 Don't Be Stubborn - Use The Tools
I'll never forget it. One of the funniest moments in recent toddler history. It was December of 2020, and we were playing an intense game of family holiday trivia. The question— what was gifted on the 7
th
day of Christmas? As my two young sons tried to sing the song in their heads as fast as possible, my then-3-year- old son blurts out, "don't be stubborn guys, ask Alexa!"
Within seconds we had the answer we were looking for — seven swans a-swimming! While I had to give a quick lecture about the need to play by the rules, I must say the ingenuity for a 3-year-old was impressive. While this moment in time serves as a humorous reminder of the technological advancements digital natives will grow up with, it also reminded me of the importance of using tools and data science to help make more informed decisions as a marketer.
One of the best tools we have at our exposure to do this is web analytics. By using web analytics tools like Google, Adobe, and other platforms, we are able to help inform our site maintenance and content improvement processes. Much like Alexa, your data is waiting to give you valuable answers; you just have to be willing to listen to what the data is telling you in order to make actionable insights..
Analytics Can Show You Which Content Works Best
Building your website is a key milestone to hit for any insurance agent. Going through the task of finding a development team or even venturing out on your own to build a site yourself can be a long and arduous process. One of the ways you can make that work worthwhile is by continually optimizing your site to perform at its best. Much like a car, your website needs frequent tune-ups to perform at it's optimal level. By using analytics data, you can get insights on which content your users are engaging with the most.
In the image below, you can view a sample report with data broken down by the Pageviews on this website. You can see, as expected, the top-performing page is the home page that is represented by the "/". The data that follows next is key; however, the blog opt-in form and blog post on promotion tips are the pages driving the next highest traffic volume.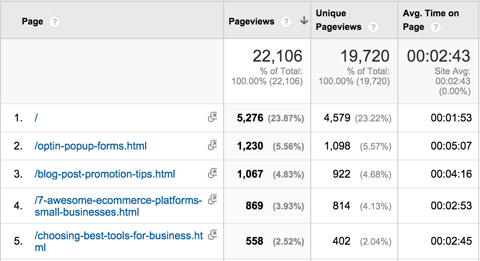 Based on this data it would be wise to create additional promotion tip content as site users appear to be willing to engage with this type of content. As a best practice, make sure you are aware of your top 10 pages, so you know the appropriate content mix your readers are gravitating toward.
Understanding Key Analytics Metrics
This Pageviews report is always a good report to analyze as it gives good insight into your site's top performing content. There are also additional metrics you can use to help determine how your site is performing.
Here are some common website metrics you should know:
Sessions: A single visit by one user, which can be spread across multiple pages
Unique Visits: How many individual "users" visit the site during a given timeframe; each user is only counted once during the course of a month
Page Views: The total number of times an individual URL or web page is viewed
Unique Page Views: The number of times an individual URL or web page is viewed by a single user
Bounce: A session that triggers only a single request to the Analytics server, such as when a user opens a single page on your site and then exits without triggering any other requests to the analytics server during that session.
Bounce Rate: The percentage of time that all users bounce from a page or from your entire site
Organic Traffic: Visitors who are considered organic find your website after using a search engine like Google or Bing, so they are not "referred" by any other website
Paid Traffic: Any customer who visits your website after you have paid for advertising promotions
Avg. Time on Page: The average time that all users spent on an individual webpage
Avg. Time on Site: The average time that all users spent on your entire website
Analytics Installation Tips
If you do not already have analytics installed on your site this is something you can setup fairly easily on your own. Most Content Management Systems (CMS) have an analytics script feature you can use to copy and paste the analytics script code globally (on every page) of your website. Google Analytics provides a free service and remains the industry leader for analytics tracking. Here are some helpful resources to help get you started.
Remember to let the data be your guide.
About the Author:
Kalup Alexander is Digital Marketing Director for The Word & Brown Companies. He holds a Bachelor of Arts degree in New Media Communications and Marketing from Oregon State University and has been at Word & Brown since 2014.
---
Most Recent Articles
---