The Help You Need Is All Right Here
We're here to assist with compliance-related matters, employer reporting, and complex regulations. We make complicated issues seem simple, with valuable resources and answers to your specific questions. We'll help you navigate the uncertainty of state and federal laws affecting you, your clients, and their employees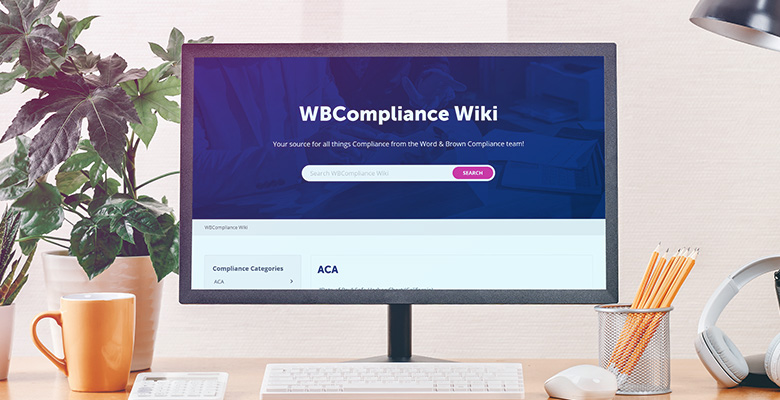 WBCOMPLIANCE WIKI
Our new resource gives you and your clients a place to easily – and quickly – look up compliance-related topics to get the answers you need. You won't have to wade through PDFs or web pages. The search feature gives you the ability to find exactly what you're looking for in seconds.
Compliance content from our newsroom
Compliance with the CAA's Gag Clause Prohibition

California & Nevada

The Gag Clause Compliance Attestation Form that is part the Consolidated Appropriations Act (CAA) is due on 12/31/2023 (and annually thereafter). Find out what's required of health plans, administrators, self-funded groups, and others to ensure compliance.

California Governor Signs New Bill Regarding Single Payer into Law

California

California's consideration of a move toward "Single Payer health care" is going to be in part under SB 770, which was signed into law by Governor Newsom in October 2023. Find out what's scheduled to happen in coming months.

Small Group Annual Special Open Enrollment Window: Nov. 15 – Dec. 15

California & Nevada

The ACA permits Small Groups to enroll for coverage effective 1/1 annually, without having to meet standard employer contribution and/or employee participation requirements. The Special Open Enrollment Window is 11/15-12/15.

Annual Employee Benefits Compliance Responsibilities on January 1st

California & Nevada

As we approach the new year, employers with group health plans must be prepared to meet their annual compliance obligations on January 1st. This column provides essential information to ensure compliance with the Affordable Care Act (ACA), ACA IRS reporting requirements, and COBRA coverage rules.